When:
12/03/2023 @ 1:30 pm – 4:30 pm
2023-03-12T13:30:00-04:00
2023-03-12T16:30:00-04:00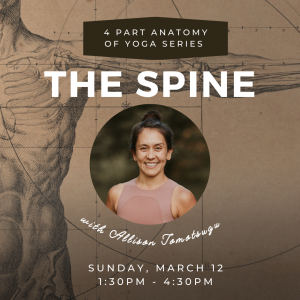 The spine is a crucial component of the human body, and as yoga teachers, it is essential that we have a thorough understanding of its structure and function.
This workshop will dive deep into the anatomy of the spine, exploring its various regions, the movements it is capable of, and the muscles that support it.
Through a combination of lectures, discussions, and practical sessions, we will equip you with the knowledge and skills you need to better understand and teach spinal health in your classes. Whether you're a seasoned yoga teacher or just starting out, this workshop will provide you with valuable insights that will enhance your teaching and benefit your students. This workshop is also open to yoga practitioners who do not teach, and have a keen interest in better understanding the anatomy of movement.
When and Where
Sunday, March 12 from 1:30pm to 4:30pm
at Astanga Yoga Ottawa (200 Bank St.)
Your Investment
• Option 1: Single workshop $80
• Option 2: Register for the four part series at $62 per workshop ($250 total).