When:
24/11/2023 @ 6:00 pm – 26/11/2023 @ 1:30 pm
2023-11-24T18:00:00-05:00
2023-11-26T13:30:00-05:00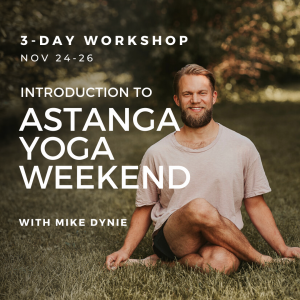 Everything you need to get started in a regular practice! Join Mike Dynie for a weekend course in the fundamentals of Ashtanga Yoga, the practice that has transformed so many of our lives for the better! No prior experience in Ashtanga or Yoga in general required. This course will set you up with a personal daily practice that can continue to grow with you!
Ashtanga is a powerful yoga system developed by Krishnamacharya, the godfather of modern yoga. This practice is designed for householders (those with busy lives) and balances the necessity for a time-efficient movement practice with mindfulness and breathing practice (pranayama).
Each day will include a lecture that is supported by a guided practice, followed by opportunities to have your questions addressed and receive individualized instruction within a group practice setting.
Dates:
Fri, Nov 24, from 6:00 pm – 8:00 pm
Sat & Sun, Nov 25-26 from 11:30 am – 1:30 pm
Location:
Astanga Yoga Ottawa,
200 Bank St, Ottawa ON
Your Investment: $140+HST
Your registration in this course includes a 2-Week full-access membership to the studio where you can immerse yourself in our community, try a variety of instructors and practice Mysore style. You'll also receive a practice manual that covers a complete beginner practice.