When:
25/03/2023 @ 8:00 am – 4:30 pm
2023-03-25T08:00:00-04:00
2023-03-25T16:30:00-04:00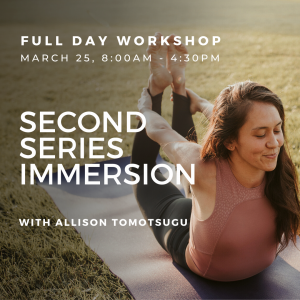 This Second Series immersion will bring both clarity and strength to your practice. We will cover the postures, vinyasas and techniques for the first half of Second Series.
Emphasis will be placed on Pasasana, Kapotasana, Ardha Matsyendrasana, Eka Pada Sirsasana and Pincha Mayurasana – as we explore these key postures we will find how they link directly back to and evolve from postures from the Primary Series.
The day begins with a led practice before we break into techniques. After a short break we will return to techniques in the afternoon and then end the day with pranayama.
Your investment: $175+hst
Earlybird $150+hst before March 5,
$175+hst after.