Dec
9
Fri
Introduction to Ashtanga Yoga Weekend
Dec 9 @ 6:00 pm – Dec 11 @ 2:00 pm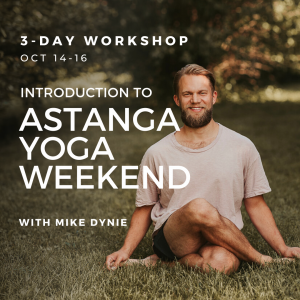 Everything you need to get started in a regular practice! Join Mike for a weekend course in the fundamentals of Ashtanga Yoga, the practice that has transformed so many of our lives for the better! No prior experience in Ashtanga or Yoga in general required. This course will set you up with a personal daily practice that can continue to grow with you! Ashtanga is a powerful yoga system developed by Krishnamacharya, the godfather of modern yoga. This practice is designed for householders (those with busy lives) and balances the necessity for a time-efficient movement practice with mindfulness and breathing practice (pranayama). Each day will include a lecture that is supported by a guided practice, followed by opportunities to have your questions addressed and receive individualized instruction within a group practice setting.
Dates:
Dec 9 from 6:00 pm – 8:00 pm Dec 10-11 from 11:30 am – 1:30 pm
Location:
Astanga Yoga Ottawa, 200 Bank St, Ottawa ON
Your Investment:
$160+HST Your registration in this course includes a 2-Week full-access membership to the studio (Oct 17-31) where you can immerse yourself in our community, try a variety of instructors and practice Mysore style. You'll also recevied a practice manual that covers a complete beginner practice.
Jan
9
Mon
At-Home Morning Yoga
Jan 9 @ 6:00 am – Feb 2 @ 6:30 am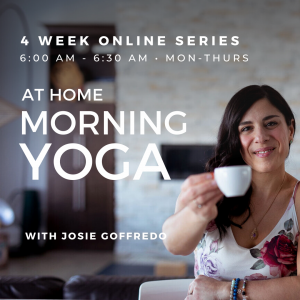 Join Josie Goffredo live online for a month of mini morning yoga to establish a whole new routine that can re-shape your day. Series starts Monday January 9, ends Thursday February 2.
Having consistent morning practice can change your life for the better and set the tone for the day. Having the support of a group will help keep you accountable if this is a change of routine for you. The benefits of regular practice quickly become obvious — you may find you operate from a calmer mind and make better decisions throughout the day.
YOGA STYLE: Generally gentle on the mat and options to scale movement will be offered. The purpose of this class is to clear morning fog and focus the mind. The sessions also include Functional Range Conditioning principles which are mobility & joint health focused.
TOOLS YOU'LL NEED: A mat and 2 blocks.
Your Investment
EARLYBIRD! $55+hst before January 2
$65+hst after January 2